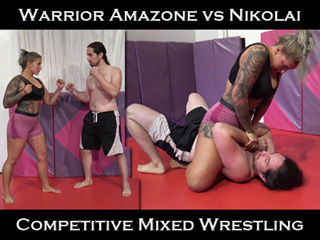 Visiting German powerhouse lady wrestler Warrior Amazone takes on local NYC guy Nikolai. Warrior Amazone is strong, fast, tough, and seriously competitive. She has been training for 4 years and wrestles hard when she hits the mats for competitive action. Nikolai has a general martial arts background but does not have much formal wrestling training. He has a size advantage for this match up, but his fitness and explosive power cannot compare with Warrior Amazone's. Let's see how it goes!


Warrior Amazone comes on aggressively, right from the very start. She is constantly on the attack, pushing forward and maneuvering impressively, making it difficult for Nikolai to get his bearings. She's skilled and powerful, and she attacks with arm locks, triangles, scissors, pinning pressure, strong reversals, neck attacks, and more. Warrior Amazone relentlessly pushes the pace, working hard to give Nikolai all she's got. Nikolai can barely keep up enough to muster a defense, though he tries his best to hang in and ward off her offensive barrage. Both competitors bring their full efforts for this match-up, but Warrior Amazone's full effort is a total wrecking ball against Nikolai's...


Two 10-minute rounds. 5-minute Punishment Round for the loser. Submission wrestling. Hard-working competitive but ultimately one-sided. Punishment Round includes: headscissors (various), breast smother, feet on neck, triangle, armlocks, body scissors, and victory pose.