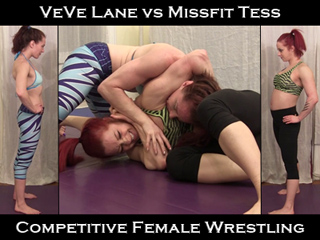 VeVe faces off against fitness athlete and wrestling newcomer Missfit Tess in this competitive submission wrestling match. Tess has no formal wrestling training, but she is a dancer, aerialist, and fitness model who enjoys strength and muscle activities. She enters a difficult match today against the quick, nimble, and highly experienced VeVe Lane.


By special request, the ladies wear spandex leggings for this match, and they each give their opening comments individually as they go through a brief warm up. And following a stare down, they hit the mats. They fight for a continuous 15-minute match, resetting after each submission. All holds are allowed, most submissions wins.


This is a very difficult contest for Tess, who had no idea what to expect from a match up against VeVe. Meanwhile, VeVe gives the newcomer no quarter and puts her arsenal of attacks to good use, much to Tess's mounting frustration. Once the match is finished, the ladies conclude with brief closing comments.