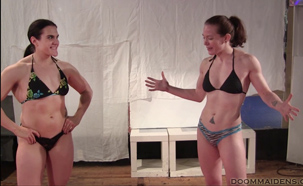 VeVe faces off against visiting female bodybuilder Iron Liberty in this next fully competitive bondage wrestling match! Iron Liberty is brand new to bondage wrestling, but she is quite intrigued by the idea and eager to give it a try.


As the two ladies hit the mats, Iron Liberty proves to be quite a challenge for rope-expert VeVe. Despite her lack of experience, Iron Liberty is very strong, a tenacious escapist, and stubbornly pain resistant. She toughs out the rope bite, wriggling free of VeVe's favorite go-to tie attacks and forcing VeVe to recalculate her strategy. And though Iron Liberty doesn't know any quick-tie techniques, she just keeps working and trying to tie VeVe, even when she winds up in disadvantaged positions.


After a long struggle with many near-ties, VeVe finally manages to out maneuver her opponent, reformulate her plan of attack, and immobilize Iron Liberty with a creative, tight, slightly asymmetrical ball tie variation. A hard-earned final tie against a challenging opponent who resisted til the very end and forced VeVe into a bondage wrestling chess game. After showing off her work and displaying the absolutely immobilized Iron Liberty, VeVe concludes with a victory pose.