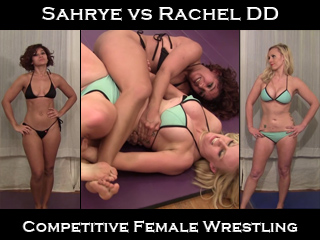 Rachel DD faces off against feisty and voluptuous newcomer Enchantress Sahrye in this fully competitive submission wrestling match-up! These competitors have never met before, and there is a definite air of tension between them.


Both are scrappy, spirited fighters who aren't afraid to mix it up. Whew, it's gonna be a rough and tumble battle!


By special request, the only submissions permitted in this match are smothers, scissors, and grapevines. The ladies are ferocious in their efforts. Tense, serious, dynamic, competitive. Both wrestlers give their best, all the way through; even as one lady falls behind, she tries her hardest to stay in the game! A decisive winner emerges at the end, and she gladly enjoys a series of victory poses over her defeated and disheartened opponent.