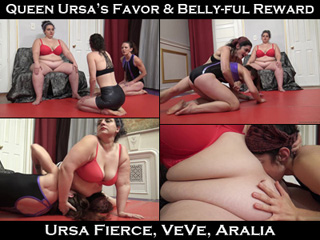 Queen Ursa the Mighty, the biggest, strongest, and most belly-tastic woman in all the land, arrogantly enjoys the adoration of her tiny subjects. In fact, her subjects and servants will often compete for a chance to sit by her side and receive a chance to worship the Queen's voluptuous belly...


As our scene begins, lowly gladiator slave girl Aralia is brought before Queen Ursa. Little Aralia has been winning all of her matches and seeks to win a chance to worship the Queen. After giving Aralia a sample of the luxurious queenly belly, Mighty Ursa declares that there will be a wrestling match between slave girl Aralia and the queen's current champion, VeVe.


And so, the slave girl and the champion clash for Her Majesty's favor, as Queen Ursa watches from her throne, her mighty belly prominently displayed. Both combattants wrestle fiercely, but the contest is quite evenly matched. The Queen grows impatient and commands the contest to end, declaring both competitors are unworthy of worshipping her! Instead, they must face the wrath of her belly power!


The Queen grabs both Aralia and VeVe and pulls them in for a long, torturous simultaneous belly smother! The slave and champion try to cry out in , but their cries are muffled by Mighty Ursa's massive belly. The Queen basks in her glory, smothering her struggling subjects on the ground... until... until she has absorbed her champion into her belly!


Slave girl Aralia squiggles free and looks on in astonishment. As the Queen returns to her throne, savoring her belly's power, she invites Aralia to kiss, stroke, and worship the mighty belly. Aralia is overjoyed and reverently worships... until.... until the Queen suddenly shoves Aralia's face into her belly, smothering and enveloping until Aralia has been absorbed as well!


The mighty Queen sits back, rubbing her belly and growing even more powerful for absorbing the two warrior women. She reclines in triumph, displaying and caressing her belly and savoring her power... with the slave girl and champion locked inside her for eternity...