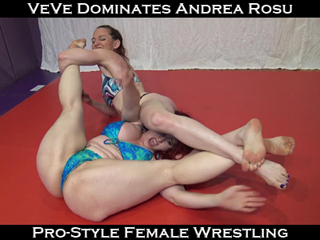 Curvaceous and leggy red-headed visitor Andrea Rosu steps up to challenge local champ VeVe Lane in this pro-style wrestling bout. But Andrea doesn't stand a chance against the ferocious might of VeVe and her punishing pro holds!


Both ladies start out cocky and confident, but as soon as the bell rings for Round 1, VeVe sweeps Andrea off her feet and seizes control. VeVe then dominates shapely Andrea through all 3 rounds, stretching her out and putting her on display with these tormenting holds: Matchbook Pin (x2), Boston Crab (x2) and single leg crab, Camel Clutch (x2), Lotus Lock, leg hook pin, Sharpshooter, kneeling Surf Board, Bow and Arrow, Step-over Toehold, Over-the-Knee Back-breaker, Texas Cloverleaf, Venus Flytrap (regular (x2) and inverted), Dragonsleeper, Stretch Muffler, Banana Split, the Twister, and leg spreading roll-up pin. Whew! VeVe also softens Andrea up with body hits and other mean tactics.


After 3 rounds of pro hold torture, weary Andrea must at last submit. But submission isn't enough for VeVe -- she keeps on going until she is satisfied. And to conclude, VeVe celebrates with a haughty foot-on-face, flexing victory pose.