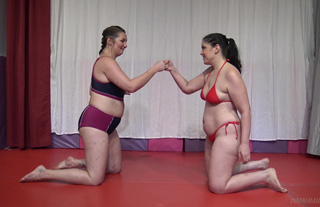 Visiting wrestler Nadia (aka "Lady Justice") joins us for her Doom Maidens debut, kicking off a day of wrestling with a competitive match against NYC wrestler/dominatrix (and infamous trash talker) Katarina.


Nadia is from Chicago/Denver, and she has been in the wrestling scene for 6 years. She is strong, tall, sporty, and cheerful, and she has trained in martial arts for many years, including Tae Kwon Do and Brazilian jiujitsu.


Nadia has a considerable size, strength, and experience advantage over Katarina (who's only been wrestling for 2 years, off and on), but Katarina is fearless and stubborn, and she never backs down. Plus, Katarina is also cheeky and irreverent, so she gladly taunts Nadia whenever she gets a chance... even if Nadia is sitting on top of her. And Nadia, amused (and often sitting on top), is keen to respond -- and to grind cheeky Katarina into the mats.


This match has a slow pace with pressure-based action style. Two 10-minute rounds, with a 5-minute Punishment Round for the loser. Submission wrestling, most submissions wins.


Nadia: 5'11" and 192 lbs.
Katarina: 5'6" and 175 lbs.