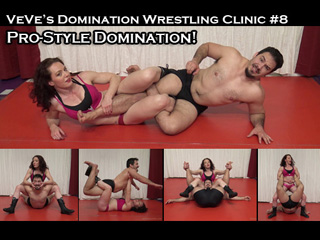 By the time we reach this 8th episode in the series, VeVe's pupils are becoming so adept they're ready to branch out and dominate in a whole new style -- specifically, Pro-Style!


But this is such a vast topic that VeVe wants to ease her students into it with a basic toolkit of moves for the beginning pro-style wrestling mistress. The holds fall into four categories: Pro Classics: the Camel Clutch, Boston Crab, and Figure-4 Leglock; Particularly Useful: the Grapevine, Bow & Arrow, and Reverse Indian Deathlock; Showy & Flashy: the Reverse Romero; and Pro-Style Variations of Familiar Holds: the (Facesit) Matchbook Pin and (Headscissors) Roll-Up Pin.


Throughout her lesson, VeVe makes sure to meticulously demonstrate and discuss each hold, trapping, stretching, and bending her demo victim for far longer than he would like each time! And she's certain to illustrate not just the moves, but how to add in the appropriate pro-style flavor -- with trash talk, dirty tactics, creative torments, flexing, taunting, showboating, and of course a victory pose to crown the match!